December began for me as a three-day weekend in Palm Springs, a solo jaunt to get some photographs of the International Tamale Festival in Indio.
Anyway, I guess it's Palm Springs' fame that makes it easy to forget that it's still really just a small town populated by scads of retired people. They drive big cars as if they were golf carts and drive golf carts as if they were big cars. Five minutes on the road in that town will make it clear why even regular streets have signs that say "SLOW TRAFFIC KEEP RIGHT." You gotta keep reminding 'em.
At first I was struck by how many of these folks drive around in a state of fearful bewilderment, their eyes scanning madly about as if to stay alert should a tortoise dart into their path. But I've come to believe that many of these drivers are probably experiencing REM sleep and just appear to be awake because a long history of cosmetic surgery has rendered their eyelids uncloseable. I have no doubt this sleep is induced by the car radio being tuned to KWXY, the most popular station in the Coachella Valley. It plays the kind of music one hears in elevators. Stuck elevators. Stuck in 1954. It had been a long time since I was treated to the musical stylings of Mr. Merv Griffin.
Now, I could've been a youthful rebel the whole time, grumbling about the drivers, and sad about the condominium developments and casinos spreading like Benecol across the desert plain. But I was there to relax and shoot pictures. I had to keep my heart calm and my eyes fresh. So I went native. I drove slow and cranked up the Doris Day. After five minutes of cruising with the right-side tires occasionally veering into the sand, I was grinning and blinking and bopping to Tex Benecke like there was no tomorrow.
I had a small personal crisis on Friday night at the eight o'clock newsbreak between Dean Martin's lovely "C'est Si Bon" and Rosemary Clooney's "Slow Boat To China." The news guy, who was also the disc jockey (I couldn't help but imagine Steve Allen switching silly hats), turned out to be Dave Hull, a guy I used to listen to all the time in the 1960's when he was the Hullabalooer. I didn't recognize his voice until he said his name through that old-man-throat. He's still got the pear-shaped tones, but I gotta tell ya ladies and germs, my rosy lips and cheeks within time's bending sickle's compass came, right there in the front seat.
On Saturday, I drove Highway 111, out past Magnesia Falls, out beyond the date shake shacks, into Indio where a lot of booths were set up to feed a lot of tamales to a lot of people. The event was so photographically rich that I had to go back the next day for more. I was so thrilled with what I seemed to be getting through my lens that I didn't bother to have any tamales.
We'll see in the darkroom this week whether or not that was a worthwhile sacrifice.
Heading back toward Palm Springs on Sunday afternoon, I found myself stuck in construction traffic (this has been going on here for years) at Bob Hope Drive. That's when I remembered I'd put something special in that little pocket of my Levis on the off chance that maybe I'd stop by and see... aw, what the hell. I turned right and headed up to Country Club Drive, made another right and then a left onto John L. Sinn Rd., a name I can never forget. It being Sunday, a golf cart was parked at the entrance to the small driveway.
"Who are you here to visit, sir?" the guard asked.
"Um, nobody, really." I said.
The guard seemed confused, and then he looked at me as if I was about to become a problem.
"Sir..." he said, as I started fishing into my pants.
"I have this..." I said, struggling with my seatbelt and finally squeezing a couple of fingers into the pocket.
He drew his walkie-talkie and raised it to his mouth just as I pulled out my bronze graduation medallion from the Betty Ford Center.
"I was here in '89." I said.
Instantly, a wave of recognition and respect swept across him. As if I were royalty, he lifted his arm in gesture to the low buildings just up the driveway ahead.
"You have a good day, sir."
I had opened a magic door.
I drove in, parked, and walked up the curving sidewalk to Firestone Hall, the main building I had entered almost thirteen years earlier. I had been so frightened back then, so raw, and so sick, and therefore so willing. This time, though, I felt so welcomed, and so on top, and so so happy.
I spent about a half-hour there, chatting with Mike R., 15 years clean and sober, one of the Eisenhower Medical Center volunteers. He showed me some of the stuff they've done since I was there. We talked about our old habits, our old haunts, and how different things are now. Mike's 82. And so so happy as well.
Driving back home Sunday night, doing 65 in the rain, I kept KWXY tuned in for as long as I could.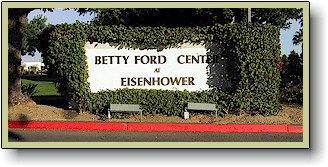 ______________________