Well, that felt good. The month went by more quickly than I expected and it was full of amusement, challenge, transformation, and romantic intrigue.
I'll start with the amusement.
In the quest to implant fond memories into Amy's brain, Viv thought it might be fun to go spend a night on the Queen Mary. We'd done this once before, back when Amy was six months old, as a way of implanting a memory into my brain of a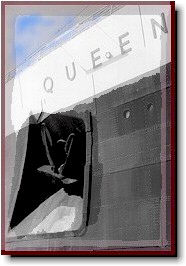 birthday I was having. When one has a birthday in March, as I do, rain is always a possibility, and the possible occurred that year dampening spirits and slicking-up decks. Many of the interesting parts of the Queen Mary are accessible only via ladders and staircases. So now I want to implant in your brain the image of me carrying a stroller, laden not only with a baby, but with a baby connected via electrodes to an apnea monitor which weighs the equivalent of a small tugboat, up and down ladders and staircases. In the rain. Happy birthday to me.
So when Viv first suggested a return to this magnificent ship I had a more visceral reaction than normal, but I employed all my anti-cringe musculature and smiled bravely and convinced Viv that I was enthusiastic about the idea. Which I was. The truth is I really did like the concept of this trip. Amy is a growed-up kid now. She walks, she talks, she crawls on her belly like an able seaman. And she has an extraordinary passion for hotel accommodations.
Viv took a week off from work and we checked in on a Wednesday. The weather was perfect. And I was very pleased to find that we would be occupying the Eisenhower Suite, First-Class staterooms starboard amidships. Amy was agog, and swooned (really, she swooned) upon discovering she'd have her own digs -- a small private stateroom just inside the entrance to the suite designed as quarters for one's servant, or lady-in-waiting, or aide-de-camp, or Kay Summersby, whatever the case may have been.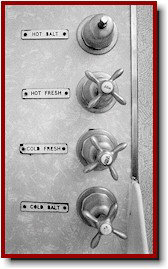 When we got to our rooms we did our family hotel ritual of drop, flop, and roll to savor the moment of having finally arrived, you know, test the beds, sit in all the chairs, push all the buttons, read the menus, find all the quaint quirks. The first real big attraction for Amy, besides her own room with sink, was getting on a chair to look out the portholes.
The newest attraction at the Queen Mary's dock is a Russian submarine which sits alongside the ship, and part of our hotel package included a tour of it. The brief story is: a rich Australian guy bought it after the sub was damaged in a typhoon, had trouble making a go of it Down Under (har de har) and sailed across the Pacific to find his fortune with it alongside the other big west coast maritime attraction. On the surface (har de har har) the idea may appear a bit cheesy, but I'd take the tour again in a heartbeat. Submarines fascinate me, and I've often wondered whether or not I could hack it as a submariner. I think I could. I'm pretty indoorsy.
Our tour was particularly poignant, and slightly eerie, as it took place during the heartbreaking tragedy of the Kursk. Crewmen's voices come from loudspeakers throughout the tour, and the smell of diesel hangs in the air. Tiny beds, watertight compartments, they'll put you in a darker place. As I sat on the stool of the chart room, doom was palpable, and I couldn't get my mind off the fact that at that moment on the other side of the world there were funerals going on for men who did this kind of work. Perhaps some of them had served on this submarine.
The vessel is an amazing mix of engineering and politics at humanity's worst -- massive torpedoes at the entrance announce the purpose of the machine while bread and fruit sit on display to provide an element of flesh. And it was interesting to watch how men reacted with the sub. It's very much a guy thing. While most of the women moved through like tourists, guys tended to have a certain look in their eyes. Combat. Strategy. Explosions. Red October. Cowboy boots and brewskis, baby. Yeehaaaw. There's something about putting my eye up to a real working periscope that makes me want to push a button.
All deep and somber thought aside, we had a blast.
The next day, we took a water taxi over to the new Long Beach Aquarium of the Pacific. It's home to some amazing creatures that seem to have just as much cunning and engineering as any 2000-ton steel-hulled bastard. But maybe I'll save all that for another time, perhaps after another visit there.
*****
As you might imagine, the past month of leisure has put me behind on a few things, one of which is my darkroom work (wow, what an amazing new revelation!). There are rolls of film leftover from the spring (spring rolls!) screaming from their little plastic cans to be let out. Maintenance of domestic infrastructure has waned. The west hill of the backyard, though not as barren as last year, still aches for more landscaping.
The biggest news is that Amy has started her school year and so far (all of four days in) it appears to be her happiest yet. Academic achievement is important, but our efforts toward that have been overwhelming, with all goals and objectives delineated and in place. What remains is the intangible element of personal chemistry with teachers and aides, and so far, with each disembarking from her little yellow bus, my daughter's mood has been bright. This is the most optimistic I've been in a long time. But my fingers are still crossed.
*****
There's more to talk about in the amusement category of this past month, but for now I'll leave it here. I'm anxious to get to the challenges, transformations, and romantic intrigues, and some of that may need a delicate approach.
For now, I'll close with my thanks to you for indulging my need to be absent in August. Your kindnesses both online and off have been humbling and inspirational and served as a reminder that there is often more value in doing this than I perceive.
Some of the journaling muscles feel a bit weak, my head is still a touch scattered and overrelaxed, but it's good to be back.