Saturday's search with brain and lenses for something that would make me smile didn't happen. I went birthday shopping instead, hunting down a couple of requests Amy's made for when she becomes a nine-year-old on Tuesday. I figured getting an early start and making sure the items were available was the best thing to do, so the sacrifice of my photo time wasn't a big deal. And finding just exactly what she wanted gave me all the smile I needed.
*****
There were a few events in August that I haven't mentioned yet. One was meeting Michael Walsh, and another was attending a wedding.
It was hard to believe four or five years had passed since I'd been to a wedding, but this is what happens with the onset of middle age. All your contemporaries are either married or bitter or both and so the opportunities to witness nuptials are rare. I suppose in a few years there will be a surge of weddings among the neighbor kids and our attendance statistics will increase.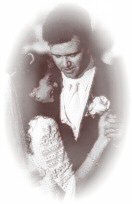 It was hot. Like in the 90's. I don't mean hot like in the 90's, I mean hot, like in the 90's. Temperature, people. And it was a black tie thing. Outside. Overlooking a waterfall that we all wanted to go splashing in.
Viv was the more acquainted guest, being a co-worker of the groom, but I know the guy and he's a swell fella with a good sense of humor and somewhat bent toward photography, and when a guy like that is getting married a guy like me just has to see what sort of a bride he's taking.
Years ago, a very good friend of mine went into a marriage I'd warned him about, I actively lobbied against it because I am wise in the ways of love, and it was, of course, a marriage disaster of Titanic proportions. This brought a tiny tear to my eye but filled my breast with pride at my ability to look deep into the hearts of men. Ever since that day, I have taken it upon myself to speak the naked truth to imminent husbands and I will physically remove them from cathedrals if necessary.
It was not necessary in this case.
They honeymooned in Africa where I'm sure it was hot, like in the 90's.
*****
As he has mentioned in his journal, I met Michael Walsh at LAX during a brief layover on his way back to the San Francisco area from Hawaii.
Okay, we all know, when reading online journals it's impossible not to form an opinion of what the writers are like in real life, their appearance, their demeanor, what they might be like to have dinner with. As a matter of personal integrity, I've felt it is my duty here on these pages to make every effort to provide an accurate translation of myself into words and pictures in order to give you the truest sense of the calm sagacity, the exquisite taste, and the overall testosterrific nature of my being.
This habit of truthful depiction puts me in a frame of mind to expect the same from others. Imagine my shock therefore when Michael Walsh did not come off the plane in costume from a Renaissance Faire, with hair down to his waist as is graphically depicted in iRREGULAR jOE. And he was neither geeky nor inordinately angry. This left me unprepared.
What I found instead was a short-haired gracious man of high intelligence, and I remember thinking as we sat there in the airport sports bar that this was just the sort of fellow who, when spotted in the wild, is usually in the company of an exquisitely beautiful woman or two. The sort of chap I could hate right on the spot if he weren't so kind or engaging or funny. I do harbor some ill will though because I don't think it's fair to the rest of us that a guy that smart and winning should be young as well.
He bought me a sandwich made of the finest sausage available at any airport on the west coast, provided a beverage as well, and then proceeded to give me a personalized postcard, a box of macadamia chocolates for my family, and some Hawaiian shirt Post-It notepads for Amy. Swell. He's generous too.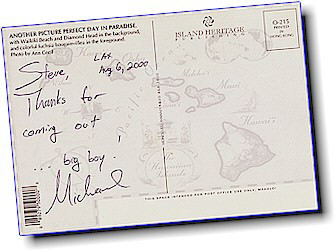 *****
I'm glad to see Chuck is back. When he posted after his recent long spell without updates I was reminded of how good a writer he is.
*****
Okay, I've got some birthday presents to wrap.
_____________________________