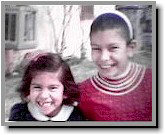 The girl in the red dress is my cousin Ginny. She died this past Saturday afternoon, at home, of breast cancer. The image is from a scene in an old home movie, circa 1959, where my Uncle Ray's little girls glide up and down a driveway in their new white skates and then swoop in for a close up, giggling all the way.
The last time I saw her was at her father's funeral two years ago, and in three days I'll be in that same church and standing on that same patch of cemetery lawn where our once-close family last gathered.
The news of her death was not a surprise and was in many ways a relief to Ginny and those who cared for her. She was the first in my generation of the family to die, and I know that her passing has put a somber and reflective mood into all the relatives and friends, and into us five remaining cousins in particular. We were the grandchildren of the family matriarch, were aware of ourselves as such, a common dynamic among Mexican clans, and I suspect our sad impending reunion this week will be yet another moment for us to make contact with our past and at the same time, awkwardly, we'll look forward to returning to the comfort of our accustomed distances.
I think what I'm feeling now is not numbness but rather the resignation to not only Ginny's death but to the death of that dream of a family I lived in as a child, and the fatigue of having wakened so slowly to the reality of human weaknesses and fears. As we aged we grew distant, with secrets and shames wedging into the spaces once reserved for enthusiasm and simplicity and parties. I am calm because I think we are tragic in a common way, and sometimes, particularly in times like this one, resignation can be soothing.
This will change. In a few days I'll rediscover, however ready but brief, the warmth of family contact and the thickness of blood. We'll loosen our ties, raise our glasses, wipe our lenses, and find new wrinkles.
And then I'll come home.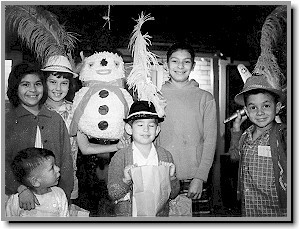 __________________________