- briefly -


January is looking a lot like September, the treadmill after the lounge chair. Two-and-a-half weeks of holiday free-play and then, bam, we hit the ground sprinting with homework and meal planning and appointments. I'm convinced that life consists mostly of interruptions punctuated by surprise chunks of available time that last just long enough for me to freeze with indecision about how I'll spend them, and then -- interruption.
*****
I suppose it can't help but look like a list at this point:
We've had more school meetings - moderately satisfying.

Amy had an EEG.

Rain has interrupted my outdoor running schedule (my dirt trails are mud and my knees just don't do pavement).

Amy grew older and bigger and more herself during the holiday break, proving that unstructured time allows one's nature to unfurl into the shape it was meant to be. She lived at her own pace, created worlds that lasted a day and then moved on.

The Beard is progressing as expected, coming in at about 38% gray. No big whoop.
*****
Here are some photographs from New Year's Eve.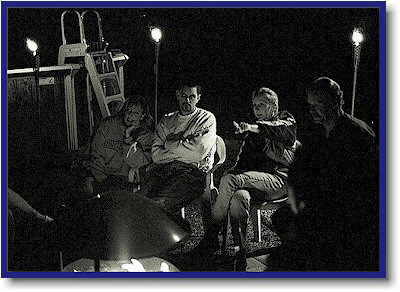 Out by the fire, Lizzie points to where the coyotes prowl. Oooooh.
____________________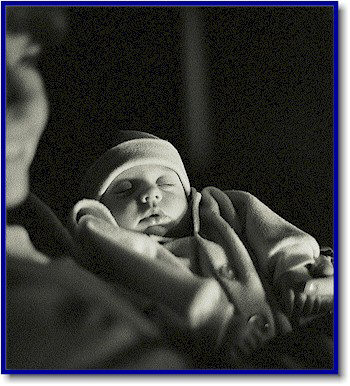 Baby Bean snoozes in the firelight.
____________________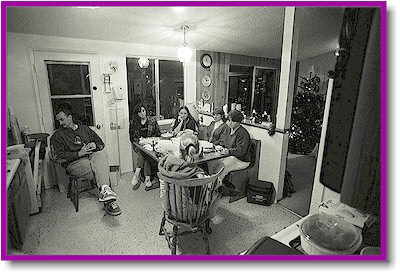 Right neighborly kitchen gab.
____________________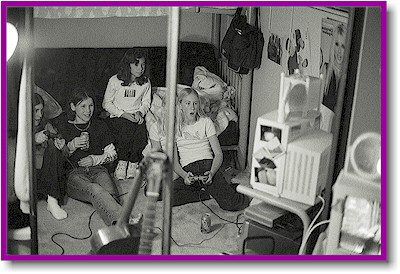 PlayStation girls.
____________________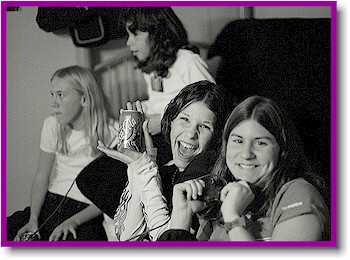 Caffeine!
____________________
Looking ahead to the weekend, tomorrow we'll be attending Lizzie's son Matt's graduation from the Ventura County Police & Sheriff's Reserve Officer Academy. My town is awash in cops. Lots of 'em live and breed around these parts. This, as you might imagine, has its good points and its bad points. And now, as young Matthew moves toward joining them, we shall watch his progress with good wishes and scrutiny. Just keeping an eye on the folks we give guns to.
On Sunday, if all goes as planned, my wife and I will actually be going on a date. With each other. The babysitter's booked, the weather looks good, and I might even be rubbin' on some of that foo-foo water to make me all sexy and stuff. Yep, get me out the nose-hair snippers, baby, we're goin' uptown.
____________________________
today's music:
"Living It Up" -- Rickie Lee Jones -- PIRATES
today's wisdom:
"Consistency requires you to be as ignorant today as you were a year ago."
- Bernard Berenson