the boys of spring
5.17.98
Some days are best spent without criticism. Free from the scrutiny of a jaundiced eye. Clean.
Today was like that.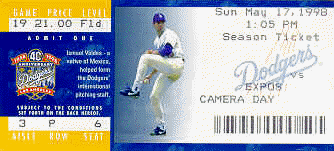 I could go on and on about Rupert Murdoch. I could use the Piazza trade as an intro to a tirade about overpaid celebrity athletes. I could talk about the neighborhood that still exists in Chavez Ravine and how it suffers economically as it did sixty years ago when my mother lived there.
But I won't.
Because it was a beautiful day for a ballgame.

Today's Music:
The crack of the bat.
Wisdom of the Day:
"If the people don't want to come out to the park, nobody's going to stop 'em."
-- Yogi Berra