workers of the world sit down!
9.07.98
In honor of Labor Day I am reporting on the throbbing nerve-center of labor in my neighborhood which, despite its location amid tract homes, thrives as the undisputed nucleus of hard work, sweat, and executive decision. I'm talking about the garage over at Mike and Lizzie's house. It is without question the hub of the little wheel of families who attempt suburban happiness around here.
Since Mike is a professional mechanic, all desire for automotive remedy flows toward his garage. Things get fixed there. Problems get solved right before your eyes.
Not too long ago, 14 puppies were born there. All we need now is some sort of union meeting and that garage will have circumnavigated the New World Dictionary definition of labor.
Next to the compressor, a small refrigerator holds the beer. A phone hangs on the east wall. It rings a lot. Under the phone is a workbench.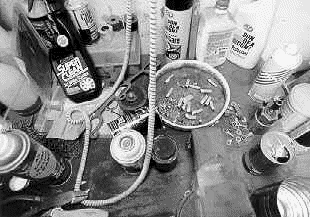 Some men's workbenches are monuments to organization. Others, like mine, are generators of guilt about past promises to clean the damned things off. Mike's workbench is like a crash cart in an emergency room, just not as sterile.
This is a guy place, a laboratory of masculinity, male territory not so much by virtue of any authority – it's just that not a lot of women really want to spend any time there. Who could blame them. I know there must be garages out there in the world where men and women trade existentialist bons mots, but this just ain't one of 'em.
So as we honor work today, let us take note of the local shrine, and acknowledge its magnetic powers. It is by no means the sole site of hard work around here, but by sheer strength of character it is an honorable Mecca of manual labor.

Today's Music:
"Automobile" -- John Prine -- THE JOHN PRINE ANTHOLOGY: GREAT DAYS
Wisdom of the Day:
"To travel hopefully is a better thing than to arrive, and true success is to labor."
- Robert Louis Stevenson (Virginibus Puerisque)