night wind
12.30.98
I gotta go buy me some jammies today. We're having a Traveling Neighborhood Barbecue and Slumber Party for New Year's and, since I sleep nekkid, I'd better take the proper steps to ensure domestic tranquility. I'm leaning powerfully toward flannels 'cause they're just so dang nice to rub up against, and you know how rubby these traveling neighborhood barbecues and slumber parties can get. Ideally, I'd purchase the kind with the feet and a flap in the back, but I'm doubtful of their availability in these times of sleek aerodynamic styling. The latest report in Popular Mechanics indicates feet and flaps perform poorly in wind tunnel testing.
Speaking of wind, one of the neighbor boys plays the sousaphone, and he'll be doing so in the Tournament of Roses Parade as a member of our local high school marching band. For months now, the local band boosters have been moist with anticipation, and we are hopeful that the appearance of our town's most pedestrian musicians will be a thrill for all involved and finally put an end to the brassy bleats and blasts that blow from each rehearsal and waft so delicately into our trees. So come the midnight, a few of the participants in Traveling Jammie Fest 98/99 will be peeling off to Pasadena to see and hear the procession firsthand. The more sensible and elderly among us, myself included, will be staying behind, keeping the home sternos warming, taping our eyelids up and watching the boy on the bigscreen.
Speaking of watching, watch this space, for there are changes afoot hereabouts insofar as design is concerned. During the past several weeks, in the rare lulls between my yacht regattas, vintage auto rallyes de concours, and personal appearances at supermarket openings, I've been toying with different looks for this site, and after careful analysis and dart-throwing, they'll be implemented soon after 1998 expires. So enjoy the manly swarthiness of these inky backgrounds while ye may, my pretties, the dark is going bye-bye.
I must motor to the mall now to find just the right ensemble, the perfect porchwear for midnight madness. When beating pots and pans, and blowing into cardboard, is it paisley or plaid? I forget.
* * * * * * *

Today's Music:
"Steppin Out" -- Heavy Shift -- THE LAST PICTURE SHOW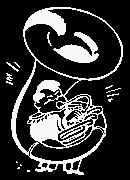 Wisdom of the Day:
"It is the function of vice to keep virtue within reasonable bounds."
- Samuel Butler