| | | |
| --- | --- | --- |
| | the moveable feets | 1.1.99 |
The Traveling Neighborhood New Year's Feast and Parade Pajama Party '99 was, well, it was. We ate like pigs and partied like the burned-out fatigue-riddled family dullards that we are. Middle-aged non-combatants like us wouldn't have it any other way, I suppose. This is what suburban parents of school-age kids do on New Year's Eve when they want the optimum balance of social intercourse, good food, and minimum travel.
It began around the corner at Ross and Mary's house. They got the early slot because they had offspring participating in the parade and had to slink away like spunkless invertebrates so they could get some sleep before hitting the road to Pasadena. Ross built a fire in his fire pit out back and we ate Mexican hors d'oeuvres. The main topic of

conversation was the parade, of course, and we passed around the section of the L.A. Times that had the pictures of the band kids in it. While we oohed and ahhhed, Amy slipped away for a solo round of nocturnal croquet. The kid knows how to have a good time.
Ross, never one to trifle with messy concepts like politeness or tact, threw us all out precisely at 7:59, the scheduled end of his designated hosting duties.
Everyone except Kevin, who stayed behind to rest his embouchure, marched over to Mike and Lizzie's, where the salad course awaited us. Lizzie pulled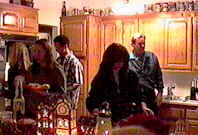 off a grand presentation of salads and vegetables and all the other effluvia that comes with salady stuff. It was mid-way through this section of the tour that Ross and Mary and their daughter Allie said their good-byes to go rest up for Pasadena.
It was about here, the shank of the evening, that we hit the groove. The conversation started flowing, the coffee kicked in, and off we went on subjects like Disneyland, and memories of New Year's Eves from childhood, and music.
Mike and Lizzie's middle kid, Luke, is a high school freshman this year and he stayed with the adults while the rest of the kids went off to pursue their own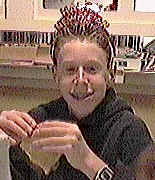 agenda. I'd look over at him every once in a while and catch him absorbing the scene. You can see him on the edge of belonging to the older crowd now, and feeling his way around obscure or purposely obtuse references. Do you remember that time in your life? I can still feel those first links to belonging, when the adults started laughing with me more, and there was less whispering, and they asked a question because they wanted to know the answer instead of make fun of it.
Just after 9:30pm, it was our turn to host. Everyone trickled across the street to our place and we sat in the living room for a while for more talk about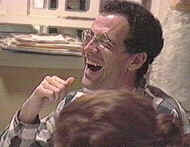 what it was like when we were children on New Year's Eve, and what our parents did to celebrate. While the kids commandeered my office to play Barbie Detective on the computer, we moved into the kitchen and sat around for more talk and coffee and beer and sandwiches.
At 11:15pm, it was off to Iris's for dessert and the countdown. But alas, Amy had hit the wall. She hasn't made a midnight yet. Viv stayed behind to get her into bed while I traipsed with the rest of the group up to Iris's at the top of the cul-de-sac.
German chocolate cake and ice cream. Sparkling cider. Dick Clark. There is, in a moment like this, a wonderful opportunity to come face-to-face with unspeakable horror. In what seems like a fraction of a second, a question of pinpoint sharpness can come shooting in from that distant nebula where Buddha sits, where the Godhead lingers, where the Unknowable Truth lies. It pierces the skull without the slightest hint of what should be a thudding impact. There is a brilliant flash of light, followed by a wave of cold sweats and a tingling in the extremities just before the Big Question blasts itself into your consciousness...
What did I do to deserve this?
How did I get here? What could I have possibly done in a past life to secure this fate? Out there somewhere right now guys are receiving suggestive glances from barely-dressed women. Warm whispers moist with adult content are blowing through the ear hairs of men all over this great land of ours and I am at the top of a cul-de-sac with a plastic fork in my mouth watching a picture of an old man waiting for a ball to drop on the other side of the country. Suddenly I am floating above this little living room scene, having an out-of-body experience, amazed that the person down there who seems to be me isn't shuddering with disbelief that what's going on here could even remotely be described as a "Rockin' Eve."
The loud pop I hear at my temple is not the self-inflicted result of too much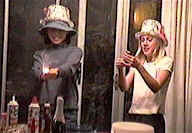 introspection mixed with a .38. It's the girls in the room shooting off party-poppers. Midnight has come. Horns are blowing. Things are exploding all over town.
We clean our plates, put on our coats, and pass around the hugs and handshakes. Happy New Year, we tell ourselves.
But daring was not completely out of my grasp. I got up at 6:45am, put on my new jammies, and drove my family across town to Adam's place for the breakfastime viewing of the Rose Parade. Yep, I drove right through the middle of my city in a bold flannel plaid. I even turned up the Lite Jazz 94.7 extra loud and leaned my elbow out the driver's side window just for swagger.
Do I know how to live, or what?
* * * * * * *
I've been so off kilter the last couple of weeks, with school out and travel and all. The days have gone by namelessly, just ticking off according to the tasks accomplished or the visits made. A lot of it has been stressful, but there also seems to have been an equal amount of opportunity for resting. I've been needing that. I really took advantage if it the last few days, not pushing myself to have a rip-roaring New Year's or a fabulously compelling first journal entry for 1999.
Thanks for reading. It really has become a rich part of my life, doing this journal, and I hope we can continue to share some of that inside and underneath stuff that makes projects like these so fulfilling. Thanks for all your e-mails letting me know you're out there. For those of you who don't write... look, it's right there --->
Happy New Year, everybody.