| | | |
| --- | --- | --- |
| | 18 | 1.25.99 |
Mike and Lizzie's oldest boy, Matt, turned 18 last week, and so we rounded up the usual suspects for a barbecue on Saturday at Lizzie's mom's house. As you might expect at a ritual passage like this, the grownups couldn't help but look into their own pasts and compare themselves as 18-year-olds with the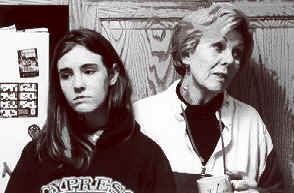 new one they saw slouching before them. The general consensus was that we were all much more mature and independent when we were that age. This latest crop is a bunch of pikers.
A lot of us were already long out of the nest at 18, either in college, or working, or in Vietnam. So we stood around the grill, waxed nostalgic for a while, and then declared the good old days to be officially gone, washed away by Watergate and disco. Without protest, we slipped into the skins of our parents, and vowed not to knuckle under to teenagers' demands until they quit being so sullen, unimaginative, and monosyllabic.
Then we ate like pigs.
Every generation was represented, and anyone with the slightest inkling of the arc of a human life could see the plot all laid out before his eyes. From the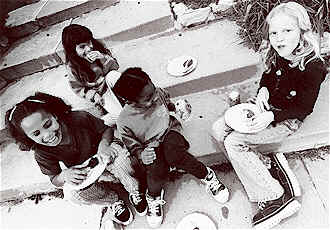 littlest boys and girls to the oldest men and women, we all were acting our age, and I don't mean that negatively at all. It was easy to get comfort from seeing The Cycle, despite the tragedy and drama and heartbreak that comes with.
The gifts Matt received say a lot about the boy and the people around him. Among his haul were a cigar, a bottle of cologne called Pimp, Super Lotto tickets, and a Bible: a powerful combination of manly accessories that, in various combinations, offer a plethora of possibilities. He also got some clothes from his mother; but it's stuff he picked out himself, the major item being a pair of pants, big white baggy pants the style of which I've seen only on circus personnel. But I'm told they're quite the babe magnet these days, for babes that are so magnetized.
My pants, by comparison, attract lint.
* * * * * * *
In other news, well, there isn't much. I've been trading journal time for darkroom time, and that accounts for the lack of updates. Amy's been using the computer a lot too, and that's just fine with me as I'd rather she did that in lieu of going catatonic in front of the tv.
This should be a productive week. The schedule is normal.
Here goes...
today's music:
"Mama Don't Wear No Drawers" -- Count Basie, Benny Carter, Eddie 'Lockjaw' Davis, Clark Terry, Al Grey, Joe Pass, John Heard, Louis Bellson -- BASIE JAM 2
today's wisdom:
"How old would you be if you didn't know how old you was?"
- Leroy "Satchel" Paige