food and lodging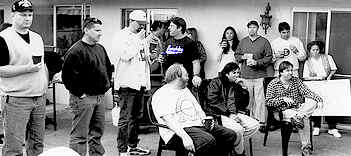 We went to a Super Bowl party at Lizzie's mom's house on Sunday. There were lots of people, tons of food, the thrills of gambling, dogs, tiny children, huge slabs of beef, ping pong, swimming, enormous sausages, and beer.
You may recall there was a barbecue at this same house just a week earlier, when Matt turned 18. Viv and I had given him a cigar as a gift then and, just as we'd hoped, it made him sick when he smoked it. In true adolescent fashion, however, he summoned the strength to slip the surly bonds of common sense, and has gone on to a brisk, if brief, career as a puffer of Swisher Sweets, tiny cigars aimed at a demographic which includes former smokers of large cigars who can no longer afford them, diabetic oral fixators, the very very stupid, and teenagers.
Imagine our pride. I'm glad we didn't give him condoms. I think.
You may also recall I had the option of going out to the aircraft carrier again, a choice that would've been frustrating as it rained, the seas were high, and the Navy felt it couldn't transfer tourists safely from shuttle boat to ship. They cancelled the tours. Woohoo, smart me! I made the right decision and got to stay in town to attend a kegger, cheer, in my best upper crust accent, things like "Fight fiercely, Falcons.", throw lots of cash into the football pools, and come away with fistfuls of air. I got to do me a lotta manly snortin', though, and pants-hikin', and shoot, I think I even burped.
* * * * * * *
The big news is I'm doing the single-parent thing till Sunday. Viv is out of town for her company's annual sales convention. Normally, I attend these functions, but the studio she works for did not have its most stellar year. The site they choose for their convention is always commensurate with their annual box office receipts, so this year the festivities are being held in the magnificent grandeur of Tucson, Arizona. Which is fine. I think everyone, at some point in their lives, should go to Tucson. Few places on earth can offer that transcendent blend of Gila monsters and dirt.
But when the studio releases a blockbuster or three, look out. We've been to some nice places. Acapulco was good. A couple of years ago it was Cancun. Before that, the Big Island of Hawaii. But the best for me, so far, was the Four Seasons on Maui. Wow. Man-o-Manny Chavez, what a place. Great service. Great food. Each year, Viv's division has a special dinner, mondo eleganto, with the finest wines and the tastiest gourmet dishes the chef can provide, and the Four Seasons' dinner was especially superb.
This year, in Tucson, I think they're having the #6.
So, while I'll miss having my wife around, there is a dark little place in my heart that is happy that I don't have to keep the house in its usual condition of sparkly clean. The laundry situation can be approached via long-range forecast. Meal presentation is concentrated around manual delivery systems. It may not appear as if I've given much thought to orderly living, but hey, I plan this stuff out, and I like to think I run a tight barge.
It's pizza for breakfast, kid. You've got your dairy, your breads and cereals, your protein...