175,320 (part two)
So here I was smitten by this woman, an actress no less, while in the midst of a domestic situation with a girlfriend of long standing. It's in times like these that men like me start re-evaluating arrangements like this. My girlfriend, oh let's call her Sarah, was a nice person, and we'd known each other since we were twelve. Most of those years were not spent in romantic enmeshment, of course, but we had, over the years, established one of those friendships that one envisions keeping for many decades, if not for the actual intimacy it may provide, then certainly for the idea that having such a long-standing relationship looks good on that internal résumé each of us keeps as a measure of his capacity to love.
The history and the niceness gave the girlfriend side of the equation a lot of weight. The familiarity we shared during our coming of age was a solid anchor for me. But you know how anchors are. Eventually Sarah and I realized that our futures involved sailing in different directions, so we yanked the mighty chain, divided the anchor perfectly in half, and went our separate ways; I floated into the ether in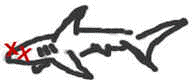 pursuit of nebulous dreams, and Sarah pursued her career in the law. She is now a divorce lawyer in San Francisco, where she divides anchors daily. With the pride only an ex can have, I like to think she cut her teeth on me.
Weighing anchor doesn't happen overnight, especially when it's sunk down deep, and while we did our chain-yanking, Ralph went about polishing his play. When it came time to cast it, guess who got the nod as the "depressed intellectual".
By the time the play opened, I was a free man. I found every opportunity I could to linger in the general vicinity of this actress to whom I was so attracted. She was easy to watch as the female lead, and the more I watched, and felt her singularity clicking into what I knew could be a great match between us, the more quiet I became. I've never been the kind of guy who competes with other men for the attention of a woman. And given her nature, her good looks, her sense of humor, everything, it was no surprise that there was a small platoon of admirers on maneuvers for her attention.
* * * * * * *
We are now at that point in our story where the narrator decides to move quickly past a seemingly endless sequence of romantic adventures wherein our hero gets his heart broken many times as he and everyone else around him engages in that series of progressive actions known as growing up. This is how he avoids being long-winded. While the thrills and spills of men and women being on again and off again has a lot to offer in the way of titillation, it gets tedious in a journal entry. Let me simply say that after several intrigues of operatic magnitude, our hero's throbbing manhood wins the day. Soon, he and the actress find themselves shacked up in the Greater Hollywood Area, pursuing the show bidness thang.
Yeah, I know, not getting to hear all the squishy parts is a letdown, but you'll have to use your imagination. And I know that you can. Don't forget the part about the trapeze.
* * * * * * *
So in 1983, four years after my first fateful bark at the moon, we found ourselves together. We'd been through a gauntlet of emotional challenges, and the smoldering landscape was strewn with the bodies of former lovers, wooden stakes driven through their hearts.
It was time to party.
to be continued...