theme from "a slummer place"

I try to keep a tidy office, but for some reason after about a week of effort to maintain sleek efficiency the room reverts to an appearance akin to the structure of my brain. Books lean over on their shelves, files are on the floor, CD's gather in about six spots, and on my desk within immediate reach are 274 items that either need immediate attention or are being saved to enjoy during that next available break. Which never comes. Bills and cartoons, folders and pictures, it's all one big bowl of Campbell's Chunky Office Soup. Dip in your spoon and marvel at the random find.
One of the most enjoyable elements in this detritus is the supply of half-scribbled-in notebooks lying about. One or two of them are from the late 1980's, and still around probably because they contain concepts, notions, germs of possibilities, or seeds of ideas that will someday blossom into big books and movies. In a sense, they are dream diaries, records of the hopes I've had. Each of the notebooks has lists, lots and lots of lists. Grocery lists, lists of characters in stories, lists of things to ask the realtor. Lists of memories, places I've lived, things to pack.
I've always loved making lists, even when I was a kid. It's a way to keep myself focused and engaged in a plan, and is probably a reaction to living in an unpredictable world as a kid. There was a period there in the 70's when I shied away from making lists because I finally saw the movie "A Thousand Clowns". In it, Jason Robards, Jr. plays Murray Burns, a nonconforming TV writer who, in a speech to his son, rails against the unimaginative minds of list-makers. Murray was a heroic character to me back then, but I have since relapsed and begun making lists again. They comfort me. And as I got older I realized that Murray was a loser.
Many of the lists in my notebooks have lost their context now, but they still amuse me when I find them. For example, from the early 90's:
Trump
Lasorda
Tyson
Don King
The Pope
Bo Jackson
Warren Beatty
I have no idea.
newspaper
rubber chicken
ball & chain
ventriloquist dummy
8-ball
gum
What was I thinking?
oatmeal
charcoal
Debbie Reynolds
monkeys and their hats
lint
scofflaws
Beaty Meaty Big and Bouncy
You tell me.
* * * * * * *
We're getting rain today, gentle rain, the kind that comes in Spring and puts the rhyme "April showers bring may flowers" into my head even though it's March. I've always liked March. Historically, it has brought transformation to my life with travel, changing residences, and my birthday all contributing to a strong sense of progress this time of year. Things are getting green again. Except me, of course. I'll be forty-two tomorrow. That's not green, that's burnt orange.
One of the items in my untidy office is a book by E.B. White. It was a birthday gift from my wife several years ago. She'd sent it to him and it came back with this inscription: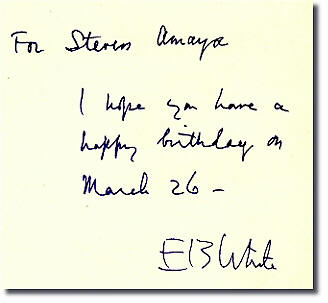 I like.
And I miss Elwyn Brooks White.