looky dem skywipers

I spent the morning in the darkroom making a few prints of shots I took over the birthday weekend in downtown L.A. There's a roll I've yet to develop, but here's a couple of photos from my wanderings around the deserted land of glass and concrete on a sunny Saturday morning.
The Biltmore Hotel, where we stayed, is the older building in the middle ground of the first photograph. The Academy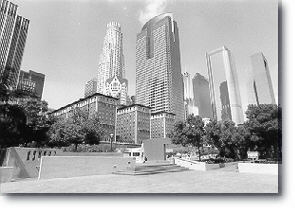 Awards were held there back in the 1930's. The round white building behind the hotel is the Library Tower. Formerly known as the First Interstate Tower, it was for a long time the tallest building west of the Mississippi, but I think some Texans have recently built a bigger one somewhere in their republic. Probably Dallas. Typically Texan. But they need that sort of thing there, attractions I mean, because nobody goes to Texas on purpose, or really wanting to. It's one of those places that enjoys its population by default, the remaining natives being so lacking in curiosity about better places to live.
What?
As I roamed around near the fountains in the California Plaza, the gentleman in this next photograph wheeled over to me on his Li'l Rascal to tell me how beautiful the place is and how they have

concerts there and how great a place it is to bring the kids especially for the light shows and the dances put on by children from all cultures and even the Philharmonic comes and plays there and the orchestra from the Hollywood Bowl too. For 45 minutes he talked. His name is Bill, and he's from Michigan. Been here 15 or 17 years. He has no teeth and spits when he talks. The transistor radio hanging from the handlebars plays big band music.
It's me in ten years.
To be truthful, I really enjoyed the guy. He was one of the few humans out and about in this section of town and I have the feeling he's a fixture in these parts.
But go two blocks west and everything changes. Down off the eastern slope of Bunker Hill lies Broadway, the once-grand main drag of downtown. For a lot of people who prefer not to rub elbows with people from other cultures it's still seen as L.A.'s main drag. But there's no denying this may be the busiest street within a hundred square miles on the weekend. Old movie palaces now abandoned or converted to Spanish language theaters still stick their facades out high, like dowagers trying to prove something to old dead boyfriends.
A few more blocks southeast and it's the garment district. Low buildings and warehouses, streets jammed with people scoping out the deals. I've got to go back to this place for some photography.
A little more east and north and you'll find yourself on The Nickel, 5th Street, Skid Row. There's enough going on there to keep a man wondering about humankind for a long long time.
I didn't mean for this to become a travelogue. The problem is that Amy is home on Spring break this week. Lots of fun. Not much writing.
Today Candyland, tomorrow the world.