- full moondoggie -



I coulda been a surfer. Totally.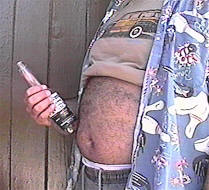 I coulda been one of those guys who's always gazing at the horizon, waiting for next set. I've got the spatial orientation thing. I've got the big feet and I tan like a crème brulée. I know well the ineffable lure of salt air, the beat of waves, the hiss of dissipating foam.
My love for the beach is da kine, dude.
But alas, I grew up just outside the reach of that salt air. My house was eight miles inland, and if a kid wanted to enjoy a spontaneous romp in the sea, well, it was quite a trek on a Schwinn Varsity.
Had the fates thrown other circumstances into my parents' lives, offering them real estate closer to the Pacific Coast Highway, there's a very good chance that I'd be in the water right now at the end of the Balboa Peninsula. I'd be a whole different guy; my skin would be weathered, there'd be sand in my bed, and I'd be living off my divorce settlement from Soozi, the flighty heiress to a ketchup fortune.
These things didn't happen, so nowadays I'm forced to live out my surfer dream vicariously through the lives of the teenage boys in my neighborhood. I went out recently to photograph a couple of them in their natural habitat on a beach north of Ventura.

Josh and Riker are both 15, on the cusp of full-blown surfer-dudeness. Unable to drive themselves to the beach or into trouble, they rely on parents for transportation. But once they hit the water they are ageless, like seals are ageless. Surfing is serious play. It's about feel, and getting the surf into your bones, the force of water equalled by muscle. The dance of balance and gravity will become second nature to these boys soon, shyness will peel away, and it will just become doing.
I wish all of life were as simple as bobbing in the breakers and waiting for a ride.
*****
The only thing that's peeling away from me these days is that veneer of sanity I got from a relatively relaxed summer. I actually thought that with my computer woes behind me all things would fall into place. Hahahahaha.
HAHAHAHAHA.
It feels like the holidays are here. Boom. Time is shrinking suddenly.
Viv's got next week off to prepare for a trip to Denver next month. Her folks are celebrating their 50th wedding anniversary and so we're making travel arrangements, party plans, shuffling finances, and just generally rescheduling life itself. In between all this we were trying to squeeze in another trip to San Diego to visit some old friends, but last night we had to reschedule that for November. We also need to sit in on Amy's second grade class next week to see how she's doing now that she's been mainstreamed.
One of the victims of the time crunch has been this journal. I may be able to do some decent and consistent writing next week with Viv home, but we'll have to wait and see. Her enthusiasm for projects can be involuntarily contagious, so I'm confident I'll be completely unreliable when it comes to sitting down and writing. It might happen, might not.
Add to this the fact that I've barely made a dent in that pile of darkroom work, and you'll see why right now I'd like nothing more than to sit bobbing like a seal at the edge of the Pacific.
Seventy-nine shopping days till Xmas.

_________________________________