The theme of bygone times has emerged on these pages in recent days with the picture from my high school yearbook, followed by the old home movies in the last entry. The past is always an odd creature, an amalgam of fiction and hopes, denials, facts, confessions, and some good old American lying just for drill. Those of you most familiar with me know the extent to which I am true blue to the cause of honesty, so mentioning untruth as an element of history is purely for illustrative purposes and does not apply to me, insofar as the past is concerned. All my tales are just as they happened, ripped and read verbatim from the wire service of Truth, Justice, and Liberty.
So it's once more to the well, my little sausages. With Halloween approaching it's only fitting to recall an October 31st of thirty-two years ago when I was in my trick-or-treating prime. I'm breaking from my personal tradition of reportage on the slings and arrows flung at me -- this remembrance is from the Positive Experience file.
* * *
It's the autumn of 1967 and for a while now, years, my house has reverberated with the sounds of Sinatra. His newest album has just come out and its grooves are being worn down by my parents in their quest for oneness with Sinatratude. That's really the best way to put it. Frankophiles do not apologize for their affection, nor do they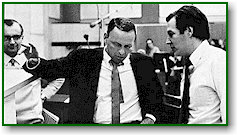 explain it. Either you recognize the groove and hop in or you don't. Me, I could swing to him, sure. I'm ten. What do I know?
This latest album is a collaboration between Sinatra and Antonio Carlos Jobim, the Brazilian composer. The tone of the songs is mellow, soft, the repertoire driven by melody and a soothing rhythm. I'm a pre-teen in the middle of this coo-coo Vietnam War Era, I need all the soothing rhythm I can get. This is deepest Orange County, Nixonland, fer cryin' out loud, and Woodstock is still two years away. I'm listening to the album a lot these days, all the Sinatra albums in fact, because we've recently been wowed by this new invention called stereo headphones. Big honkin' ones. I'm sprawled on the living room floor every day after school, looking like I've been knocked unconscious by two halves of a giant Texas grapefruit. I'm gone, baby.
Along comes Halloween night, and I'm dressed up as something easy, a hobo probably, and I'm going house to house with my pals, all of whom are into the music of the day, the L.A. Boss Radio hits, the rock and the roll. Keith and Kurt and Dan and Ronny, they've got Stones in their head. Me, I'm bouncing on a beach called Ipanema.
We're halfway through our tour of the Best Houses, the Milky Way giver-outers, when we come to the yellow house on the other side of my block. For some reason, I'm usually the last one on the porch. Maybe it has something to do with me feeling like the fifth Beatle in my little clique, well, more like Pat Boone's conservative brother, but anyway, I'm the last to hold out my pillowcase for candy.
I know this house. This is where Rick Roberts lives. He's in my class this year, but we don't hang out together. He's a jock. I'm a better athlete, but that's got nothing to do with it. Rick's probably out scamming his own Milky Ways 'cause he's not home and neither are his folks -- maybe it's Jock Parents Night at the school. Anyway, left behind to answer the door for us kiddies is Rick's sister, Toni.
Toni is three years older than I, she's an actual teenager, but to me she seems like, oh, twenty-six. She is amazingly confident. She has danced to the door in jeans and a t-shirt, danced with a kind of swaying motion, cool, hip beyond the teenybopper bubblegum moves we've seen on American Bandstand. This might even be beyond Soul Train. Why is her dance so seductive? How can her movement be so enticingly elegant? Because the music she's moving to is Jobim. Pure Jobim. Not with Sinatra, not with Stan Getz. Just Jobim. She's mainlining him.
My friends peel off to hit the next house, but me, well, suddenly I don't care about candy. I'm watching Toni's hips as my brain locks onto this Brazilian sound I know so well. She reaches into her bowl of candy and drops a few packs of SweetTarts into my sack. I look at her face, her head bobs to the samba beat. She is blonde. I decide our wedding will be in Rio.
I lean into the entryway of her house and cock an ear up slightly, just like Little Nipper, the RCA dog.
"Ah. Jobim." I say coolly, perfectly.
Her jaw drops. Her cheeks flush. Just as they will on our wedding night when I reveal my other hidden talents.
"He's good." I add.
"You know him?" she asks. I note she asks it correctly. None of this "Wow, like, you know who he is" stuff. No. We connoisseurs eschew the adolescent patois.
"Yes. I know him." I say simply. I look down into my pillowcase at the SweetTarts. "Thanks." I whisper. I turn and trot off the porch and into the night.
I wasn't ten anymore.
I like to think I left her there, faint, frozen, dizzy with curiosity. Perhaps she dove for the phone to poll her cast of girlfriends about this mysterious stranger who ambled off into the dark.
Ah, women. It is to laugh, no?
Though I'd see her from time to time, I never spoke to her again. But she's up there, up in the pantheon of females who have cast spells over me.
Thirty-two years later, amid the onslaught of Runts and the glut of Skittles and yes, even Milky Ways, I still go first for the SweetTarts.
*****
I know it was a bit early for all this, but Halloween looms into view around mid-July when you've got an eight-year-old. The major decision of autumn has been made -- Amy is going to be the pink Power Ranger this year. It's not cutting edge, I know, not a Pokemon or any other hot new character. Nope, she's a little behind the times.
Imagine that.
___________________________