Tomorrow I'm gonna get on my motorcycle and spend a few days following my front wheel. Don't know where I'm goin', not sure when I'll be back.
Should be interesting.
Also, I'm taking this opportunity to tease you with the introduction of MAG, a new cabal, a loosely cohesive conspiracy of gentlemen who fit a certain profile. Observe the cool logo...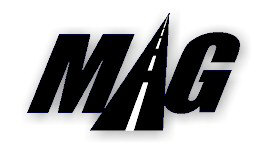 More about that later. But for now, I'm off to travel incognito, incommunicado, innagoddadavida, baby.
_________________________