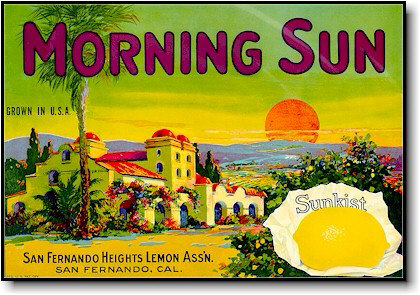 Today was the partly sunny day between two storms here in L.A. I say L.A. even though I live in the next county up. It's more precise to say my little town is centrally isolated between L.A. and Santa Barbara, but that's just too much geography to ask of some people.
But anyway, taking advantage of today's weather, the three of us motored up the road a piece to Ventura mostly just to shuffle through the downtown stores and mosey around the farmer's market. We came home with macaroons and vegetables and a few citrus crate labels to stick up on the kitchen walls.
I have an unusual affinity for crate labels because I come from a long line of pickers and packers. It's part of the rich cultural heritage we brown folks enjoy, and our closets are littered with what often passed for family portraits back in the first half of the 1900's -- curled up 8x10's of Sunkist packing house crews lined up for the company camera all wearing gloves and smiles. Well, okay, gloves.
t
It was cold and threatening enough to wear a coat and carry an umbrella as we poked into only a few of the thrift stores and antique shops situated just south of Mission San Buenaventura. As California beach towns go, this one is just beginning to move into its gentrification, much closer in feel to Pismo Beach than, say, Santa Monica which is gone, cooked, done, not really a California beach town anymore. SM is more like Pasadena with an ocean on one side.
Ventura also lacks the refinement one finds in more gentrified towns, with eateries geared for middle and working class people or people who don't want to live in a place that's attractive to folks who'll spend $20 on soup. Not that there's anything wrong with that. It's a very pulp fiction kind of place, much of it seemingly stuck in the 50's, with bars and motels making up an unusually large portion of the businesses there, and I'm sure the symbiotic relationship of those two endeavors bears much fruit, mostly in the form of generations of surfer boys and surfer girls who'll call it home forever.
t
As proof that summer's heat makes grownups frisky, March is full of birthdays. Lizzie, the neighbor lady across the street, turned a big fat 43 yesterday, and two of Amy's classmates had birthday parties within the last 24 hours. Emma, Lizzie's daughter, has her natal day in two weeks and her brother's is in three. And then, of course, there's mine. I'll be 28 again, and making the rounds of liquor stores with the hope of being carded.
t
The forecast for tomorrow is heavy rain, and there's nothing like hunkering down in the darkroom for making a gloomy day productive, so we may see a new photo or two showing up here in the next few days.
That's all, really.
___________________________________
today's music:

"Bustin' Surfboards" -- The Tornadoes -- MUSIC FROM THE MOTION PICTURE PULP FICTION

today's wisdom:

"California reminds me of the popular American Protestant concept of heaven: there is always a reasonable flow of new arrivals; one meets many -- not all -- of one's friends; people spend a good deal of their time congratulating one another about the fact that they are there; discontent would be unthinkable; and the newcomer is slightly disconcerted to realize that now, the devil having been banished and virtue being triumphant, nothing terribly interesting can ever happen again."

- George F. Kennan