I seem to have been stricken with the same time constraints and interruptions that have fallen upon some others who keep online journals these days. There's really nowhere to start when so much time goes by between entries. All that happens is a list spills out, and here it is...
*
We've had another meeting or two about Amy's education. Looks like this year is shot as far as getting any real substantial changes to her schooling, but the die for new academic goals has been cast and come December, if those goals aren't met, things could get unpleasant for the school district.
*****
I'm still participating in Amy's twice-weekly occupational therapy sessions and we'll be starting up some more physical therapy sessions in a month or two. Children's Hospital of Los Angeles wanted to include her in an experimental study involving kids with hemiplegia and the use of Botox injections into spastic limbs. Doesn't that sound like fun? I think we'll pass on the experiment, though it may be quite an effective treatment. CHLA is more than an hour's drive away, worse during rush hour, which is three hours long in the morning and the same in the afternoon, and after that kind of motoring on a regular basis daddy would need shock treatments. I have a truckload of things to say and a trainload of things to learn about what's going on with Amy's CP, and aren't you glad I'm not doing it here.
*****
After school yesterday, as a surprise, I took Amy over to the Point Mugu Naval Air Station for the air show. We both had a great time. She got to sit in some cockpits and wander through big airplanes and helicopters and watch aerobatics. I lived for air shows when I was a kid and it was nice to see her face light up at the sight of some terrific outside snap rolling. She's also big on hammerheads, Lomcevaks, and inverted flat spins.
*****
The new fence is up. Building a fence that runs down a steep hill isn't the easiest thing in the world, but it turned out fabulous, what else. Lemme hear ya say YEAH!
*****
I have traded my regimen of running for one of strenuous uphill and downhill walking. After a lapse brought on by illness, holidays, school schedules, funky knees, a weird neck pain, and overall bump-on-a-logness, I've put on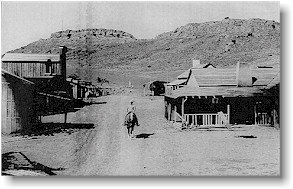 my PF Flyers once again for some serious vertical assaults. My town is surrounded by open space and hiking trails, and there's one particular trail I've been using to get my old self back. It happens to be where "Gunsmoke" and "The Rifleman" were filmed, back in the days of diesel-powered televisions. The photo shows precisely where I hike, beginning right about where the horsy is. It's about a 400' climb to the top of the promontory on the right, and I can make it up there in about twelve minutes if I run, sixteen if I walk. The western set is gone, of course, and the terrain now is wild and wide open and very green this time of the year. From the summit you can see the Pacific Ocean.
*****
Another photographically bent journaler, The Sole Proprietor, will be joining Chuck and me for the Sunday performance of the air show tomorrow, and I suspect a triad of reports about the day will be appearing next week sometime. You can bet the truth about Mr. Wuss's tenant will be fully revealed here in Evaporation as well as in Chuck'stake (and gosh isn't it nice to see Chuck's changed his mind and decided to keep writing). We may finally confirm our suspicions that The Sole Proprietor is actually a seventeen-year-old girl working at a Dairy Queen in Cheyenne, Wyoming.
*****
Okay, I have a car to wash, a fence to water seal, burgers to cook, a lawn to mow, and some weeds to spray. And it is my fervent wish that you will never again have to wade through an entry as insipid as this one has been.
__________________________________