The Lucky 13 has arrived. Thirteen years of marriage, a legally binding contract, are complete as of today. It is only through a combination of skill, humor, powerful will, lust, humor, vision, imagination, humor, propriety, providence, cash, humor, swarthy good looks, a rowing machine, humor, and love that we've been able to make it this far without having to console ourselves with the notion of lovely parting gifts. Another major element in this blend is Amy, of course, without whose childish behavior our role would have been merely as breeders rather than the suave and sophisticated parents you see before you today. Viv and I are bound together tightly in this Gordian knot uff luff, and not once have we seriously considered inching across the room to grab the scissors. For whatever purpose.
Happy Anniversary, Viv.
*****
Stately Amaya Manor has been whipped into shape for the season. The pool is up and filled and warming in the sun, the grass is mowed, the barbecue is clean. The patio is an oasis of shade, its 8ft. teakwood table standing ready for a feast. The lanterns are filled with oil. Bring on the summertime.
The refrigerator is once again filled with organic sprouting faloombwehbweh as Viv has recently been to Whole Foods as part of her Campaign for Better Living, a program which seems to roll around every year at this time. This is a Good Thing, as it serves to inspire a cascade of pro-active pursuits: exercise, increased water intake, and better sleeping habits. It still feels a bit like creeping Communism, and I half-expect Viv to come home from the fabric store with a Butterick pattern for Health Patrol uniforms, but it's nothing that a good cheesecake won't cure.
Another by-product of the move into healthier living is the onset of fatigue as my body shifts gears. I feel as if internal poisons have been lifted to the surface and are ready for a good flush, to be followed quickly by a serious professional nap. But napping, I hear, is for babies.
I used to nap a lot, though, together with Amy when she was a baby, and I remember longing for the days when I could once again nap alone on my own schedule and in my own bed. But she no longer naps, and, as luck would have it, the larva of disciplined adulthood has adhered itself to my face and promised to stay and feed on me until Amy goes to college. So now I get by on hope, dreams, and injections of French roast, black. Eventually, once my child is successfully independent, happiness and fulfillment will come ripping out of my viscera to look for fun. Until then, I shall defer my evil selfish napping. I really don't know what that means, but it was fun to say.
Coffee served me well yesterday as I'd spent the night before in the darkroom until 3:00a.m. Here is the result, the second and last part of the New York Photographs. Other NY photos may trickle randomly onto my pages in the future, but for now parts one and two are the gallery.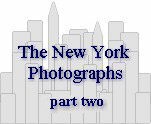 __________________________________