Today will be remembered. It will go down in the family history as Day One of The Obsession.
It happened just before noon, I think. I was right here, surfing the web, when Viv walked in and out of the blue said "I've been dreaming lately about having an MG."
Just like that.
I pinched myself. See, look, a little welt.
Usually when there's an itch to get a sports car, it's the guy, right? He nurses his little secret. He bites his tongue when his dream pulls up alongside at the red light. He hides the car magazines under the bed.
But it wasn't that way this time. This time it just came from heaven and spilled out of Viv's mouth.
She wants an MG.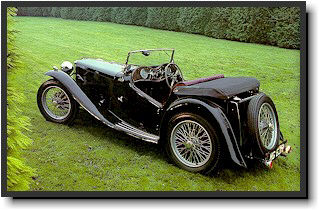 Well guess what me too.
An early 1950's MG T Series, to be specific.
And here's the kicker -- it's actually po$$ible. I discovered this after poking around in a squillion MG websites. Sure, there are some nice $70,000 models, but there are others less expensive, nice ones, not so snooty ones, even if they are a little quirky. Quirky, yeah. In the driveway this quirkiness is called British Charm. Stuck on the freeway shoulder in a rush hour rainstorm it's called !#*&%!.
Along with the car and the repairs you also get a family, of sorts. A convivial network of sources for advice on repairs, parts prices, restoration hints and the like. The social element of MG ownership can be attractive, and after looking over some of the activities of MG clubs I think I can safely say there may be a car rally or two in our future. Yeah, I know. I'm old.
This afternoon I went over to the bookstore and got an MG book and a British Car magazine and spent the next few hours flipping through page after page, soaking in the juices of MGness. In between all these browsing sessions I'd touch base with Viv again and show her what was available and how we wouldn't have to reach into the Hundred Thousand Dollar box.
"I think it'd be great." she'd say. Right answer.
For the rest of the day, everywhere I looked I saw MG's. Not like when you get a new car and suddenly you see the same kind out on the road everywhere. No, I was just... seeing them. Mirages. I'd look out at the lawn and imagine an MG sitting there. Out by the barbecue -- an MG. The driveway, the garage, rounding the corner of my street -- visions of flared fenders and wire wheels.
While this all happened with brushfire speed, the flame has been burning low for a long time inside of Viv. As you may recall, I mentioned back in November that Viv spent her high school years tooling around in a little red '53 MGTD. How can so sensory an experience ever go away? How can one help but yearn to live it again?
So we're on a slow prowl. We're looking at finances. We're looking at advertisements. We're off this weekend to the Huntington Beach Concours d'Elegance where they're featuring MG's in honor of the 75th year of the marque. In the psychiatry business I think they call this fantastical immersion. In self-help books it's called visualization. Me, I call it splendid.
There is an ugly down side, of course. If, a year or so from now, you happen to hear me say "Do these Union Jack pants make my butt look big?" -- please just take me out and shoot me.